This week, Jezebel's makeup blog Millihelen posted another installment of its Mall Makeover series, this one being the second installment of the expat edition. And guess who was in it? Me.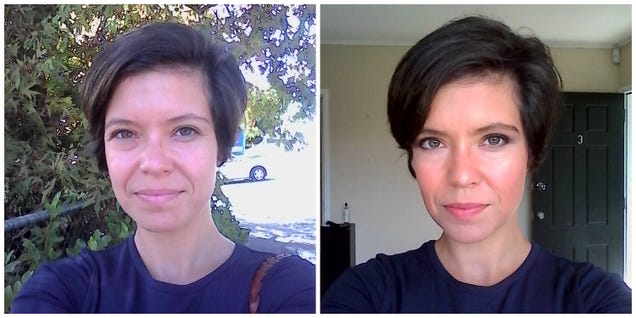 Jane, the writer, gave me a heads up that the post would go live this week. I saw it while checking emails and doing some work during a little getaway in Sydney. It was so fun reading the accounts of the other women who did makeovers in Montreal, London and Astana.
Some of you may have seen the pre-Jezebel post about the price of cosmetics in New Zealand, and how I freaked out over spending $90-something NZD at Clinique. (I had told Jane I spent $95, when I spent $93 — clearly shown on the receipt I posted with the whingey post. The mistake is all mine, but the spirit of the whinge remains — $90-something is a lot.)
I tried to see if and how I could return the products. I called the counter and was straight up with the manager: I bought these products last week, I never used them, can I get a refund? She asked why I wanted to return them. I said that I'm going through duty free this week [implying that the prices are better in duty free]. She replied that I could only exchange the products. Well then.
The manager was completely within her rights to not take back products, not an unusual policy. So let's chalk that up to a pricey lesson — bribe visitors with bribery so that they'll bring back stuff you want from duty free.
Nice Commenters are Nice
Can I say how nice the commenters on Millihelen are? I had mentally prepared myself for the worst: that anonymous commenters would say something mean. If you're a web editor or producer and you're stuck wrangling comment moderation, you're probably groaning in agony. Comment moderation = not fun.
But on Millihelen? None of that. NONE. Well done to Jezebel and to its readers-commenters. Often times, the comments on Jezebel are more interesting to read than the article. (No disrespect to writers; those writers often get involved in the comments as well.)
I did see a couple of comments that the after picture I took was with better lighting. True. So I wanted to share another photo I had took, outdoors in broad daylight. I think the makeup still looks OK. The big window in our living room does provide awesome light, so naturally it would give a better picture.
Mall Makeover Expat Edition Blog Plugs
Two of the other women in the piece have websites worth exploring, so I wanted to plug them. Tatiana, the woman from London, has a jewelry store called We Are Arrow. Some nice jewelry pieces on her Squarespace site!
And Rebecca, living in Astana, Kazakhstan, keeps an expat blog called How to Be a Librarian in Kazakhstan. I look forward to keeping up with this blog, to read about life in central Asia.
Thanks to Jane with Millihelen [Jezebel] for the opportunity to do something fun! If you are an expat and want to participate, DO IT. Shoot Jane an email here.
What do you think of this look? I haven't gone full face since, but learned something about creating not-clown brows. Share your thoughts in the comments.